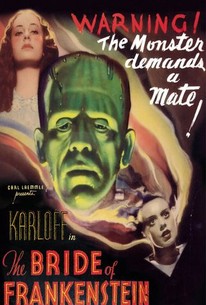 Trailer:  The Bride of Frankenstein (1935)
Starring: Boris Karloff, Elsa Lanchester, Colin Clive
Directed by:  James Whale
Runtime:  1 hr & 15 min
Genre(s): Drama, Horror, Sci-Fi
Review by: John Dixon
Spoiler Free Review: (read if you have NOT seen this movie)
4 years following the original "Frankenstein" movie we get a direct sequel that starts by having Mary Shelley describe that her characters were not actually killed off in the movie. From there we discover that Frankenstein's monster had much more living to do, finding friends, more enemies, and a potential mate.
Spoiler Filled Review: (read only if you HAVE seen it and don't care about spoilers)
The Bride of Frankenstein is a movie that you must see if you are a fan of old monster movies. Much more character building for Frankenstein's monster and I love that it connects to the 1931 Frankenstein movie seamlessly. We are introduced to a new menacing "mad scientist" in Dr. Pretorius. More evil than his college Dr. Henry Frankenstein and he steals the scenes he is in with his mere presence. If you are worried about being scared though, you have nothing to worry about. There is no fright in this movie.
The over acting is a staple for the 1930's Hollywood picture. They had to over act like this in silent films so, the acting had carried over well after they started including audio. During the beginning of the film I'm assuming they were going for levity and the inclusion of some comedic elements to make the scarier more horrifying. Instead they made the sillier almost unwatchable. I'm pointing my Frankenstein finger at one character exclusively. Minnie was a distraction. For instance when she is running from the monster it takes away from everything Frankenstein is supposed to be. Several times I expected to hear the Munsters theme music, which made me sad. Because like many, I'm sure I've built these classic monster movies up in my head to scarier than they actually are. There isn't an Igor character here but we do have a "Karl". Karl is an idiot, Don't be like Karl. Unless he made it out of there at the end, then I suspect that Karl is smarter than his eyebrows make him look.
Frankenstein is a living creature that is made from the bodies of dead people. He just wants to be human and help others. His appearance keeps people from reacting anything close to civil. You attack the monster, you get thrown to the ground. Frankenstein comes across an old blind man to reiterate the fact that if you can't see him you won't be afraid of him. They become friends and in a short period of time (I assume) the old man teaches his friend to speak. Good, Bad, Friend, ya know, the basics in everyday speech. Phil Hartman's portrayal of Frankenstein in SNL came to mind when Frankenstein's Monster had uttered the words "Fire, Bad!!". We even saw ole frankie puffin' away on a stogie! That's a sight of disappointment let me tell you. Its like walking in on Superman as he is taking his hairpiece off. The friendship of the old man allowed Frankenstein's monster to open up and be controlled by Dr. Pretorius. Which after some strong arming by the evil doctor he got Dr. Frankenstein to agree to make the monster a mate. Only to realize that this woman saw him as everyone else did. A monster.
The story is lacking in payoff in my opinion. I went into the movie assuming that I would see The Bride of Frankenstein for at least half of the movie. I mean, its her movie! No, that is not the case here folks. The final 4 minutes of the movie is when Frankenstein's mate is revealed to the world. I really liked her mannerisms and there was so much there to build on. 2 seconds later it was over. It was easy to take note of the famous line spoken by Dr. Frankenstein. "She's Alive!" which is foreshadowed earlier in the scene. (look for it) As for Dr. Pretorius' introduction I felt the "tiny" people were over the top unnecessary to the movie and we could have established his crazy mad scientist background another way that had a closer tie to Dr. Frankenstein. Cinematography was pretty cool especially when they would try to make Dr. Pretorious look menacing and mad. Tilting the camera with electricity in the background is always a win.
I felt they could have put so much more into the ending. We were just introduced to the Title character and 4 minutes later the movie ends leaving our characters (minus one Dr. Frankenstein) dead. Frankenstein assuredly dead just as in the first film. The story was put together well, but I must say that the title of the film was completely off. I'm renaming this one to Frankenstein 2: The Blind Friend. Reason being it was the old blind man that moved the Frankenstein's monster character along to allow him to side with the evil doctor and in turn die again. There was two alternative titles that were used in the USA release. Frankenstein Lives Again! & The Return of Frankenstein which fits the story so much better than what it ended up being known for.
3.5
STARS
| | |
| --- | --- |
| Comic Book Connection | n/a |
| Nudity Bonus | n/a |
| Favorite Moment | When we get to see The Bride of Frankenstein unveiled to the world.  Very cool. |
| Most Hated Moment | Frankenstein smokin' a stogie while bouncing with joy listening to his friend play the violin. |
| THIS Movie reminded me of THAT Movie | This movie reminded me of the original but with more Frankenstein talking. |
| What did my wife think of this movie? | She didn't watch this movie.  Could I blame her? |
| Box Office Budget | $397,024.00 |
| How much it made Domestically | $2,000,000.00 |
| Was it a Box office Success? Or Failure? | Success |
| Did you notice? | 1.  Christian imagery is seen throughout the film.  Ie. Monster on a crucifix? |
| | 2.  Dr. Henry Frankenstein is seen in the castle while the building is collapsing, yet he escapes in the end. |
| | 3.  When the bride see's the Monster for the first time she actually smiles. |
| Rotten Tomatoes Score | |
| Critics | 100% |
| Audience | 87% |